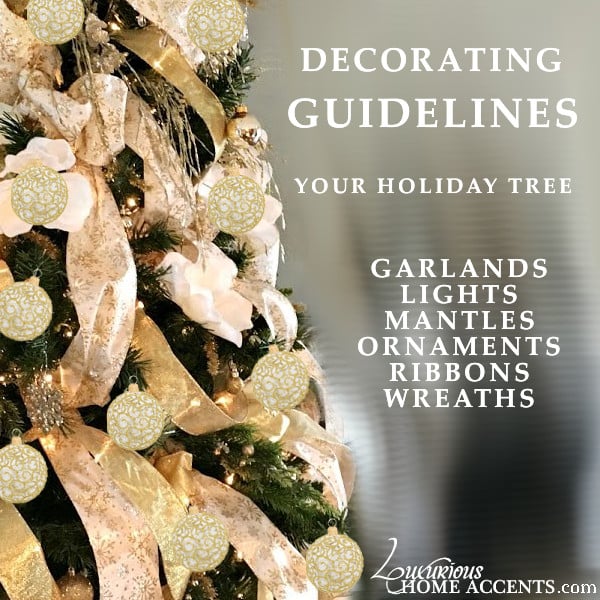 GUIDELINES FOR DECORATE A HOLIDAY TREE
Price Not Defined
Decorating your Holiday or Christmas Tree can be a joyous experience for you and your family. On the other hand, it could be a disaster if your have not planned out how you want it to look. Everyone has a different idea of what the end result might look like. We searched the internet to offer a road map you might follow for success.
Still in the dark as to where you begin or what your Holiday theme might be this year. Then contact our Luxurious Home Accents HOLIDAY DESIGN STUDIO. We will help you in your quest for the best holiday tree and decorating ever.
THEME IDEAS:
Patriotic Theme Holiday Tree Decor
Red and White Candy Cane Holiday Tree Decor
Black and White Harlequin Holiday Tree Decor
------
How much RIBBON should I use to decorate a Holiday Tree?
Tree Height Amount of Ribbon
4′ – 5′ high tree use 40 feet – 55 feet of Ribbon
6′ – 6.5′ high tree use 70 feet – 75 feet of Ribbon
7′ – 7.5′ high tree use 84 feet – 98 feet of Ribbon
8′ – 9′ high tree use 120 feet – 150 feet of Ribbon
------
How many GARLANDS should I use?
At least 9 feet of garland per foot of tree.
A 7-foot Christmas tree will need 63 feet of Garland.
-------
When should I apply GARLANDS?
Garlands are added first BEFORE the Ornaments and AFTER the lights
------
How many ORNAMENTS should I use on a Holiday Tree?
Tree Height - Number of Ornaments
6′ tall tree use 60 ornaments
7′ tall tree use 70 ornaments
8′ tall tree use 80 ornaments
9′ tall tree use 90 ornaments
------
TREE LIGHTS PLACEMENT
Tree Lights are tricky. They come in different sizes and the spacial distance may differ also. You will have to give some thought as to how much illumination you want on the tree. Use less lights on the tree paired with spot lighting can give you an amazing look also.
------
TREE LIGHT RECOMMENDATIONS
Here are some guidelines we found on Google that may be helpful. 100 lights for every foot-and-a-half of tree," according to Lowe's. But Better Homes & Gardens recommends using three 100-light sets for every foot of a tree's height. And Real Simple suggests 100 lights for every foot.
------
TREE LIGHT PLACEMENT
Please don't start stringing the lights from the bottom. Experts say to start at the top of the tree using the last light on the strand (the one that doesn't have the plug beside it) and work down the front in a vertical line, leaving three to four inches between each strand.