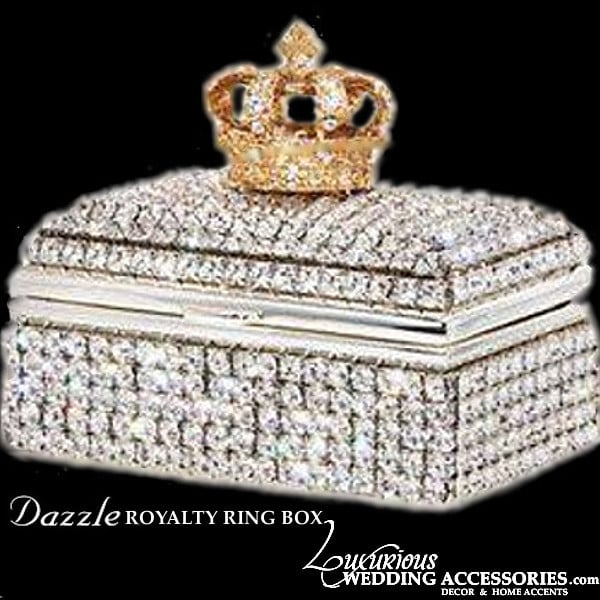 Swarovski Crystal Ring Box Dazzle Royalty
The Dazzle Swarovski Crystal Royalty Ring Box from Luxurious Wedding Accessories is made in the USA on a Silver Rhodium base that has been embellished with gorgeous and brilliant Swarovski ® crystals accented with a Crown. Gift Box included. Black fabric lining. Dazzle Royalty Box: 3 H x 3 W x 4 ⅝ L
Removable Ring Presentation Insert available with matching black fabric. Insert has a slit to place ring in so it stands upright.
The Dazzle Collection is Rhodium Plated. It is the world's most expensive precious metal. It will not tarnish. Some of the most expensive consumer items in the world are made from rhodium.
This is an Isabella Adams Limited Edition piece of art that anyone would treasure. Signed and enclosed in an elegant Gift Box. Designed and Hand-Crafted in the USA.
Custom order. Approximately available to ship within 3 - 6 weeks. All sales are final. Due to high demand we recommend that you order if you like it. At times we are temporarily out of stock and we would not want to disappoint you.
Please note that all Luxurious Wedding Accessories are custom made just for you. By placing your order you acknowledge, agree and accept that all our products fall under a no refund and a no cancellation policy. All sales are final.
Silver Ring Box, Swarovski Crystal Ring Box, Silver Trinket Box, Swarovski Crystal Trinket Heart Ring Box Swarovski Crystal Heart Box, Engagement Ring Box, Heart Engagement Ring Box, Clear Rhinestone Crystals Heart Ring Box, Heart Ring Box with Swarovski Crystals, Clear Crystal Quinceanera Heart Ring Box
Swarovski Crystal Wedding Gift, Swarovski Crystal Engagement Box, Luxury Wedding Gifts, Luxury Wedding Gift Ideas